Raleigh Truck Accident Lawyer
Holding Truck Drivers and the Trucking Industry Accountable
Traffic accidents involving tractor-trailers and other commercial vehicles are more likely to result in serious injury or death. Beyond the sheer size and weight of these behemoths that share our roadways, these devastating outcomes can often be traced to tight delivery schedules, driver fatigue, aggressive driving, cellphone distraction, poor maintenance or improperly loaded cargo.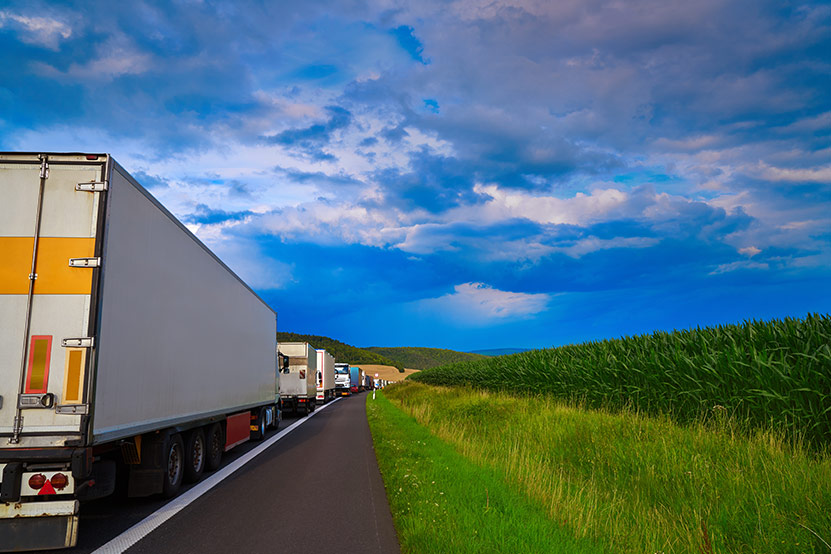 Time Is Critical After a Truck Crash
The legal team at Owens & Miller PLLC acts swiftly to preserve evidence that may be crucial to recovering your full and rightful compensation. 
Call our Raleigh law firm at
919-719-2750
to start the investigation. Free consultations.
Trucking is a mammoth $600 billion a year industry. On-time delivery equates to big money, which means that the safety of the motoring public is often sacrificed in pursuit of profit. Damages in a truck accident also equate to big money, so the trucking company and its insurance carrier will dispatch a "ground team" to analyze the accident scene and minimize their financial exposure.
The Right Experience for Tractor-Trailer and Truck Accidents
Will Owens and Kimberly Miller are accomplished trial lawyers who have handled truck accident cases across North Carolina. Will Owens is also an active member of the Association of Plaintiff Interstate Trucking Lawyers of America (APITLA), a national organization of truck accident lawyers working together to help eliminate unsafe and illegal interstate trucking practices.
Our lawyers are knowledgeable about the North Carolina statutes and federal trucking regulations that govern 18-wheelers, freight vans, dump trucks and other large commercial trucks. We are also extensively familiar with trucking industry practices, namely the ways that transportation companies cut corners and skirt the rules to save time and money.
Owens & Miller works to uncover truck driver negligence or intentional acts on the part of the trucking company, the trucker and any third parties:
Overloaded trucks in violation of weight restrictions
Improperly secured cargo in violation of Department of Transportation (DOT) standards
Driver fatigue in violation of Hours of Service regulations
Driver error (too fast for conditions, tailgating, changing lanes, failure to yield)
Neglected maintenance (bald tires, worn brakes, broken lights)
Negligent hiring, training or supervision

Our attorneys know what evidence must be obtained before it is lost. For example, the truck's electronic control module ("black box") provides data on the truck's direction, speed, RPM, gear and other useful information that may indicate that the collision was not "just an accident." We put the trucking firm on notice to preserve this data, which might otherwise be purposefully destroyed.
We likewise arrange for the truck to be inspected before it is repaired or scrapped, and we obtain driver logbooks, dispatcher logs, truck stop receipts, weight station records, maintenance records, criminal records and driving history of the trucker, and any other relevant evidence.
No Recovery, No Fee.
We handle personal injury cases in Wake County and surrounding counties of central and eastern North Carolina. Call 919-719-2750, or contact us about your situation.